YouTube Videos, Digital Sociality and Anthropological Research
Published by the University Press of Colorado in 2019, Thanks for Watching: An Anthropological Study of Video Sharing on YouTube, authored by Patricia Lange, has has become available in Open Access at the Open Research Library in early 2020, as part of the KU Select 2019 Anthropology collection.
A Blog Post by Pablo Markin.
---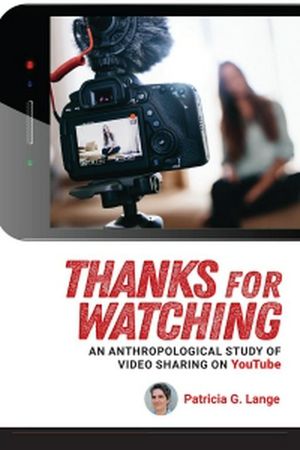 Description
As this book highlights, YouTube receives around one billion visitors on a monthly basis. Every minute in excess of 400 hours of video are uploaded at this platform. In Thanks for Watching, Patricia Lange offers an anthropological perspective on the heavily mediated social environment, under the influence of this digital platform. Lange demonstrates how core theoretical and field-work concepts from anthropology—participant-observation, reciprocity, and community—apply to sociality as represented on YouTube. This research has also allowed this author to reconceptualize and update these concepts for video-sharing cultures. This major research effort draws on 152 interviews with YouTube participants at gatherings throughout the United States, content analyses of more than 300 videos, observations of interactions on and off the site, and participant-observation sessions in which the researcher has become part of the community she had been examining. Whilst providing new insight into patterns of digital migration, in this work Lange has traced the influence of YouTube on interactions on camera and off-site. This has also enabled her to inquire into how the loss of control over image makes users feel post-human.
Outtake
From the introduction into this book:
"Thanks for Watching uses an anthropological approach to explain how interpersonal dynamics are mediated through video. Anthropologists often make the familiar strange and the strange familiar. To those who see it as a familiar video-watching site, the concept of YouTube in this book may seem strange; it functioned socially for people. Given that so many people from around the world of different ages and types were vlogging, they sometimes playfully referred to YouTube in a way that was analogous to a fictional country with its own customs and values called "YouTubia." To those who feel that sharing so much of the self through video is strange, the book empathetically examines why personal media-sharing practices were so compelling. As a media-shy person, I initially considered such intimate sharing odd and discomforting, and thus my perspective resonates with the more traditional anthropological approach of studying lifeways that are distinct from one's own. During a multiyear project, I became a YouTuber and participated in a video-sharing culture to understand its rhythms and sociality. Although I never disclosed highly personal information, I did share videos about one personal passion – the anthropological study of video-sharing practices. Over the course of the project, I came to appreciate why people bonded through video" (Lange, 2019, p. 10).
Edited by Pablo Markin
---
Reference
Lange, Patricia. Thanks for Watching: An Anthropological Study of Video Sharing on YouTube. Boulder: University Press of Colorado, 2019. Accessed August 17, 2020. https://openresearchlibrary.org.
---
Featured Image Credits
Untitled, July 24, 2020 | © Courtesy of Claudia Dewald from Pixabay.
---