Langenohl, Andreas, and Regina Kreide, eds., 2019, Conceptualizing Power in Dynamics of Securitization
This volume addresses the 'question of power' in current constructivist securitisation studies. How can power relations that affect security and insecurity be analysed from both a transdisciplinary and historical point of view? The volume brings together contributions from history, art history, political science, sociology, cultural anthropology and law in order to determine the role of conceptions of power in securitisation studies, which has tended to be dealt with implicitly thus far.
---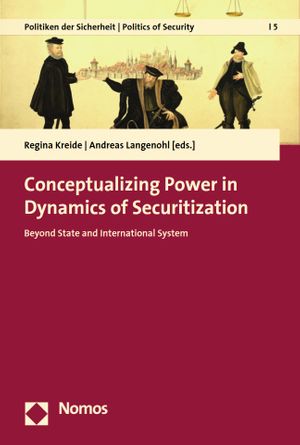 Description
Using conceptual theoretical essays and historical case studies that cover the period from the 16th to the 21st century, Conceptualizing Power in Dynamics of Securitization: Beyond State and International System, a two-part book edited by Andreas Langenohl and Regina Kreide and published by Nomos Verlagsgesellschaft, portrays the dominant paradigms of critical security studies, which mostly stem from the field of international relations and see the state as a major focal point in securitisation, in a new light. For instance, Andreas Langenohl opens the Part I of this volume, dedicated to the conceptualization of securitization and its power dimensions, with an essay on the "Dynamics of Power in Securitization: Towards a Relational Understanding." In contrast, Ana Ivasiuc closes the Part II of the book,  which explores the historical and contemporary manifestations of the power dynamics in securitization, with a chapter on "Reassembling Insecurity: The Power of Materiality."
Outtake
From the Introduction by Andreas Langenohl and Regina Kreide:
"Today, 'security' has advanced to a conception that is equally prominent in social and political discourses and practices, and in academe. Contemporary diagnoses as well as historical reconstructions of security dynamics point out that 'security' has evolved as a vernacular conception whose reference dimension is constantly widening, up to a point where it appears without qualifier, but as a value in itself. For instance, it has been argued that security, once the prerogative of the modern state and its raison d'état, is meanwhile framed as a concern that transcends the interests, but also the boundaries and capacities, of the state. Developments like the expansion of 'security', as a normative demand, to the realm of society and to individuals' safety, as in the conception of 'human security', tend to posit state-political interests in security in contradistinction to the wellbeing of social groups and societal systems of reproduction as well as to the safety of individuals irrespective of their political belonging. In such con- stellation, the conception of 'security' loses its seemingly self-explicatory quality, instead becoming a key vehicle for negotiations and fights over political prerogatives, social demands, and claims at cultural identities. Frédéric Gros has reconstructed some aspects of this generalization of 'security', arguing that while 'security' has a quite diverse and complicated genealogy in Western European history, it has meanwhile become a global currency whose prominence resides precisely in the conspicuous absence of any qualifier of what 'security' is concretely supposed to mean, and for whom. In particular, the notion of 'human security', according to Gros, serves as a vehicle for a bio-political conception of individuals as carriers of life functions that replaces the idea of individuals as holders of human rights. These accounts highlight the ubiquity, and at the same time vagueness, of 'security' as the base of the power of that conception. 'Security' seems to have lost all substantial qualifiers to the advantage of a negativistic conception, namely, as the absence of threat. In some languages, this negativistic definition of security even materializes on the word-morpho- logical level, like in the Russian bezopasnost', which literally means 'the absence of danger/threat'" (Langenohl and Regina Kreide, 2019, pp. 7-8).
---
Reference
Langenohl, Andreas, and Regina Kreide, eds. Conceptualizing Power in Dynamics of Securitization: Beyond State and International System. Nomos Verlagsgesellschaft MbH & KG, 2019. Accessed July 29, 2020. https://openresearchlibrary.org.
---
Featured Image Credits
Securitization stock photo, December 14, 2018  | © Courtesy of Simon Cunningham/Flickr.
---